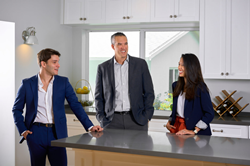 J.C. Vina, Corey Schwartz, and Ashlee Albert-Hernandez, the team at Gravity Real Estate

It's our mission to ease our clients' path to the next step in their lives and make each transaction feel like a celebration

MIAMI (PRWEB)

December 06, 2021

Gravity Real Estate today announced its partnership with Side, the only real estate technology company that exclusively partners with high-performing agents, teams, and independent brokerages to transform them into market-leading boutique brands and businesses. The alliance will ensure that Gravity Real Estate, a brand built on its founder's passion for providing elevated service, is powered by the industry's most advanced platform. Gravity Real Estate was founded by Corey Schwartz. Schwartz is a member of the Master Brokers Forum and has been recognized by Miami Agent Magazine with the Best Team award. He received Platinum Club recognition from 2015 through 2021 at his previous brokerage, was inducted into the Hall of Fame in 2016, and earned the Distinguished Service Award in 2018. Top agents and Miami natives Juan Carlos Viña and Ashlee Albert-Hernandez will join Schwartz at Gravity Real Estate. Viña obtained his license at only 18 and quickly became the youngest top producer in his previous brokerage by assisting clients within his demographic. He has a Short Sales and Foreclosure Resource (SFR®) certification, and, in 2019, his sales efforts were instrumental in Schwartz's "Best Team" award. Albert-Hernandez began her career in 2010 and closed more than 60 transactions in her first year alone, which earned her an industry "hustle" award. Every year since, that number has increased. Schwartz, Viña, and Albert-Hernandez bring decades of real estate sales, marketing, and communications experience to each transaction. Though Gravity Real Estate's primary objective is to help people close quickly at the best possible price, its focus is on building lasting relationships. "Buying or selling a home is a monumental decision, one often prompted by life events — both positive and negative," said Schwartz. "It's our mission to ease our clients' path to the next step in their lives and make each transaction feel like a celebration." About Gravity Real Estate Gravity Real Estate is a Miami-based real estate company that specializes in residential properties. Its award-winning, down-to-earth agents have expertise in marketing homes, negotiating complex transactions, and compiling detailed market research. By listening to its clients' needs and helping them achieve their goals, the team is rewarded not only with the satisfaction of a job well done but with the honor of repeat and referral business. To learn more, visit http://www.GravityRealEstate.com. About Side Side is a behind-the-scenes brokerage platform that provides the best agents with proprietary technology and a premier support team so they can be more productive, grow their business, and focus on serving their clients. Side is headquartered in San Francisco. For more information, visit http://www.sideinc.com.